BACK TO SCHOOL....should be a happy and easy time of normal transition. But for children like my grandson, Evan, who have a form of Icthyosis., it can be a very intimidating and even painful experience. It is important for all of us, adults and children, parents grandparents and teachers to remember Evan's simple message. When you see someone who may look a little different in some way, ALWAYS "SMILE...FIRST" and remember to "Like FIRST" on Facebook:
https://www.facebook.com/pages/Foundation-for-Ichthyosis-Related-Skin-Types-Inc/152961778073837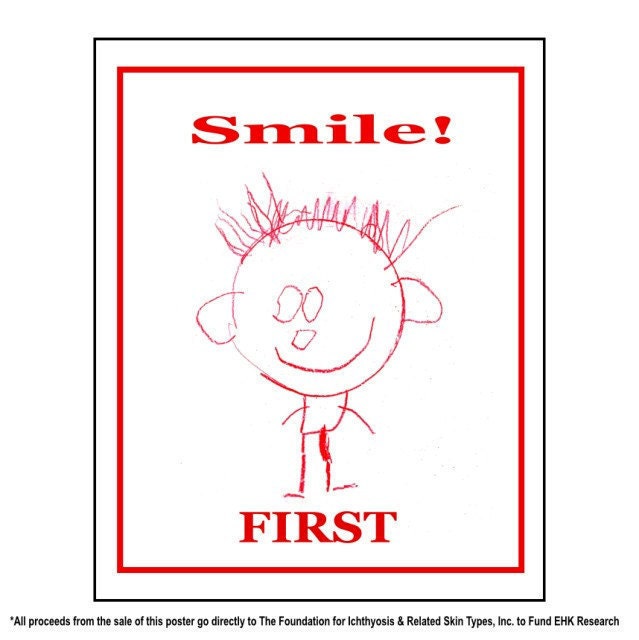 To Buy Poster for research.
My precious and talented grandson, Evan, age 8 years busy on his computer. During the summer days he had to be either in a swimming pool or in indoors in air conditioning. Children with EHK cannot perspire over heat very easily, and are very susceptible infection.
Ichthyosis Awareness, Back To School, Smiley Face, Fundraiser Sale,16x20, Smile FIRST, 100% Proceeds to ei, ehk, Research, Ready To Ship
$
30.00
USD
Ichthyosis Awareness, BACK TO SCHOOL, Show Your Love Smiley Face, Fundraiser Sale ,16x20, Smile FIRST, Madcap Charity. 100% Proceeds to EI, Epidermolytic Ichthyosis.(Also called EHK- Epidermolytic Hyperkeratosis ) Research. Photograph Smiley Face, Smile! FIRST. Smiling Self-Portrait by Evan, at 6 years old. Evan is beautiful, EI is not. Disability awareness poster. All proceeds go to EI research.

IF I SELL 10 POSTERS THIS FALL, $300.00 WOULD GO TO RESEARCH!

Please, no discounts (coupon codes) on these fundraiser posters.

You demonstrate your love and compassion when you order this poster.

THIS IS A 100% FUNDRAISER SALE ITEM. ALL SALE PROCEEDS GO TOWARD EI (EHK) RESEARCH TO FIND A CURE.

Today, December 28, 2012, I was able to donate $300.00 to FIRST for EHK rtesearch. 10% of all my Etsy sales profits go directly to FIRST.

When you buy a poster 100% of the sale goes to FIRST.

EI stands for Epidermolytic Ichthyosis, a form of ichthyosis. It is a very rare genetic skin disorder that occurs only one in every 300,000 births. It is characterized by scaly, thick and blistering skin, making the child highly susceptible to trauma and infection. There is no cure.

100% of the proceeds from the sales of this poster will go to directly to EI Research.
Visit FIRST LINK: http://www.firstskinfoundation.org/content.cfm/Ichthyosis/Epidermolytic-Ichthyosis-EI/page_id/545http://www.firstskinfoundation.org/content.cfm/Ichthyosis/Epidermolytic-Ichthyosis-EI/page_id/545

Evan, my grandson, has EI.(EHK) He will Second Grade this fall. Despite his handicaps, he remains optimistic and enthusiastically involved in all his school activities. He drew this smiling face self portrait. I was so impressed that such a happy self-image could come from a child who lives with so much pain and disfigurement on a daily basis.

Until a cure is found, Evan and children like him will have to continue to endure the painfulness of EI. He still needs a full time health aide to assist him and help prevent any occurrences of skin trauma and infection, an air conditioned classroom and a wheel chair for the days when his feet are so blistered he cannot walk. Any donation is appreciated to help find a cure.

There is no cure for EI,(EHK) and very few people have even heard of it. We didn't until Evan was born the one, in 300,000.

I have created this poster "Smile FIRST" to Educate, Inspire and Connect people to help fund research for a cure for EI.(EHK) It is an "orphan" charity because it is so rare, it gets very little attention or funding for the much needed research.

By purchasing this poster or print you will help Evan and other precious children, like him.
You will be helping to find a cure for EI. (EHK)

"Thank you from the bottom of my heart.", Evan's Mimi, Patti
Click this link to buy smiley face poster for research: Thank you.

TITLE: Photograph Child Smiley Face, "Smile! FIRST", Evan's Portrait Drawing, Photo Poster
SIZE: 16 X 20

The actual print is 20 by 16 inches with a half inch white border.

My poster prints are professional quality Giclee prints on heavy semi-matte photo paper.
The paper is 99 year acid-free and archival.
Rolled in a tube to arrive safely to your door!
Please visit my blog: http://pattilovesparis.blogspot.com/

Facebook: http://www.facebook.com/photographyandjewelry

OUTSIDE THE USA? Please CONTACT ME before you place your order.
I am not responsible for your country's taxes and custom charges, as they vary from place to place. They are the buyer's responsibility. Questions? Please visit my shop policies section:
https://www.etsy.com/your/shops/LovesParisStudio/policies

***SHIPPING****SHIPPING COSTS WILL BE HIGHER FOR ORDERS OF MULTIPLE ITEMS., 2 OR MORE ITEMS WILL COST MORE. Please CONTACT me with any questions or concerns.
USA THEY WILL BE $15.00.*average cost
OUTSIDE USA $40.00*average cost

*ESTIMATED, shipping MAY BE MORE DEPENDING ON SIZE OF ORDER.

(c)2013 Patricia E. Sundik, All items are copyrighted Loves Paris Studio.

"La vie est belle!" Life is beautiful! Patti, Evan's Mimi

YOUR PURCHASE OF THIS PHOTOGRAPH WILL HELP FIND A CURE FOR EI.(EHK) Thank you.