Well, I finally did it. I blew a kiss to Etsy.
My shop is still open, but with all the new rules, sales are down...sooo I opened an eBay Store!
I am loving it! I can sell whatever I want, whenever I want to whom ever I want. No more rules! Having lost 52 pounds on Atkins...
I have a lot of lovely clothes and shoes to sell. All of my merchandise is clean and good quality. I sell the way I would expect to be sold to. I am having a ball!
I have come to realize that selling is almost as addictive as buying. My eBay store is
http://stores.ebay.com/lovesparisstudio/
It is a lot like my Etsy shop, but more variety. I sell pony bead bracelets, to works of art and museum quality collectibles. I love the way eBay cheers you on. They give you good ideas and encourage productivity, honesty, and reliability. These are qualities that I can relate to.
So if you are ever just browsing the web, or need a pony bead custom bracelet or beautiful photograph, ...just come on over and visit me.
I try to list new item,s everyday. I still ship FREE in the USA and use first class for worldwide when I can.
Most exciting thing I sold so far was my neighbor's Harley Davidson 100 TH Anniversary leather jacket. Send me a message if you are on the look out for anything special, I just might have it!
As always, thanks for stopping by! "La vie est belle! Life is Beautiful! Patti xo
Oh yes..I need a song...Here is another one of my favorites..quite appropriately....actually.
YOU CAN KEEP UP WITH MY LATEST ITEMS ON PINTEREST:
http://www.pinterest.com/lovesparis/ebay-deals-from-loves-paris-studio/
THANKS AND HAVE A GREAT WEEKEND!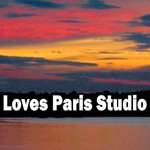 My zest for life, beauty, and knowledge gives me great joy. Artist, wife, mother, and grandmother, I follow my passion wherever it takes...
read more
30 results found in all categories