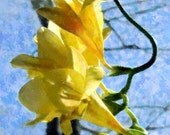 Photograph Flower Freesia Yellow. Impressionist Freesia blossoms against a blue Maine sky in early spring. These beauties were a gift from my daughter, Ali. I loved them because they seemed so exotic. * A Maine spring garden is when you hand carry your plants outside in the morning and back inside in the evening until the end of May!
We wait a very long time for warm spring days in Maine, so I hand...
Click Here to Visit My Etsy Shop!