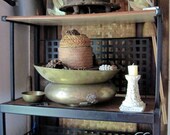 Photograph Kitchen Shelves, Minnesota Artist's Kitchen. My oldest sister, Mariea, is an interior designer. For many years she was the interior designer for Carlton College in Northfield, Minnesota. She will be 82 this coming June. During my last visit, I made a photographic journal of the beautiful environment she has created in her home.
Nothing about Mariea's artistic taste and flair is ...
Click Here to Visit My Etsy Shop!