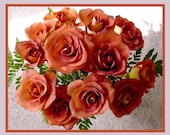 Photograph Flowers Rose Bouquet, Painted Terracotta Orange Rose Bouquet. Amazing how a rose bouquet from 2004 would last eight years and look lovelier than ever with its richly painted terracotta undertones. Orange roses symbolize enthusiasm and desire. The warm vibrant tones speak of genuine love and devotion.
This photograph would add a beautiful and rich pop of color, texture and form to many home...
Click Here to Visit My Etsy Shop!