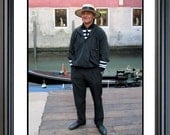 Photograph GONDOLIER VENICE, ITALY, 8 x 10, Smiling Gondolier, Fine Art Travel Photograph.My husband and I wandered around Venice for hours. It was one of the most memorable experiences of my life. Yes, the gondoliers were all very handsome or pretty. There are female gondoliers now. They are very traditional except they have cell phones!
This photo would add a colorful touch of Italy to many hom...
Click Here to Visit My Etsy Shop!